UNIQUE ARTWORK. MEANINGFUL GIFTS.
Koh Living is proud to work closely with Indigenous Australian artists, showcasing their unique and vibrant artistry through our range of exquisite products. This collaboration is more than just a partnership; it's a celebration of the rich cultural heritage of Indigenous Australians and a way to share their stories with the world. At Koh Living, we offer you a wide range of high-quality products that are both beautiful and culturally significant.
Explore beautiful giftware showcasing art from our partnered artists. Each artwork carries a unique narrative, reflecting connections to the land, ancestral traditions, and spiritual heritage.
Our products are a celebration of Indigenous heritage, showcasing traditional techniques, patterns, and symbols that have been passed down through generations. Whether you're searching for a special gift for a loved one or simply want to indulge yourself, we at Koh Living have something for everyone.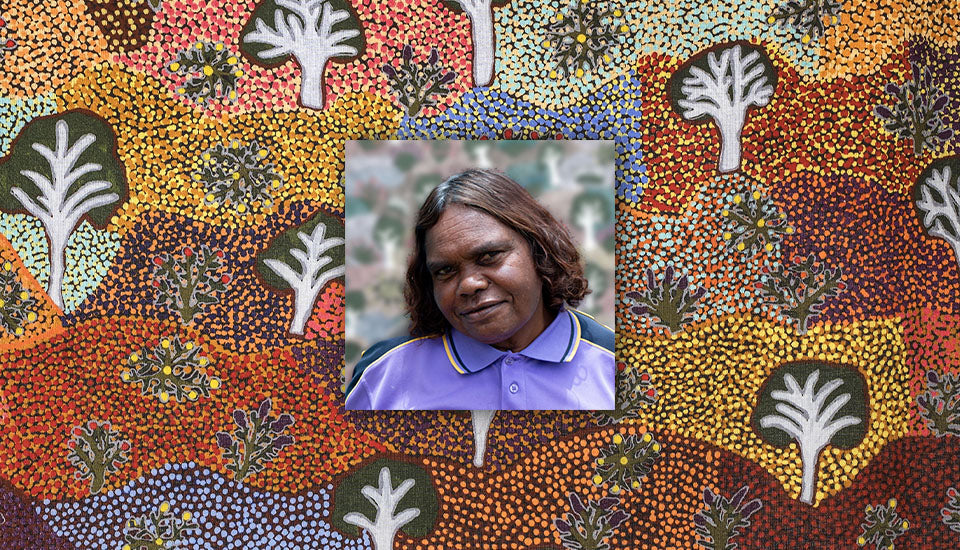 Annette Nungala Peterson was born at Neutral Junction Station, close to Barrow Creek (which is on the Stuart Highway between Alice Springs and Tennant Creek). She spent much of her life working at the Epenarra School, where she dedicated her time to teaching language and culture to young ones. Today, she manages the Epenarra Art Centre.
Annette started painting as a young girl and has re-invigorated this practice in recent years, painting alongside the Epenarra artists of Wutunugurra, where she lives. Her art is influenced by daily life in the community and contains an element of fantasy. Heavy dotting and vivid patchwork colours exaggerate the textures of the pebbled 'rock country' that surrounds her home. Annette paints with a rich, vibrant palette and signature patchwork style, making for dream-like landscapes.
Artwork & Story

In Annette's words, she describes her Bush Medicine artwork: 

"This painting shows bush medicine after summer rain, and all the little dots represent stones and seeds. When rain time comes, flowers grow again."

Bush Medicine is a subject Annette Nungala Peterson returns to repeatedly in her artworks. Within Indigenous culture, profound importance is placed on the understanding of bush medicine, a knowledge typically entrusted to women. The essence of bush medicine encompasses a connection with Country, familial ties, and a legacy passed down through generations promoting well-being.
Shop Collection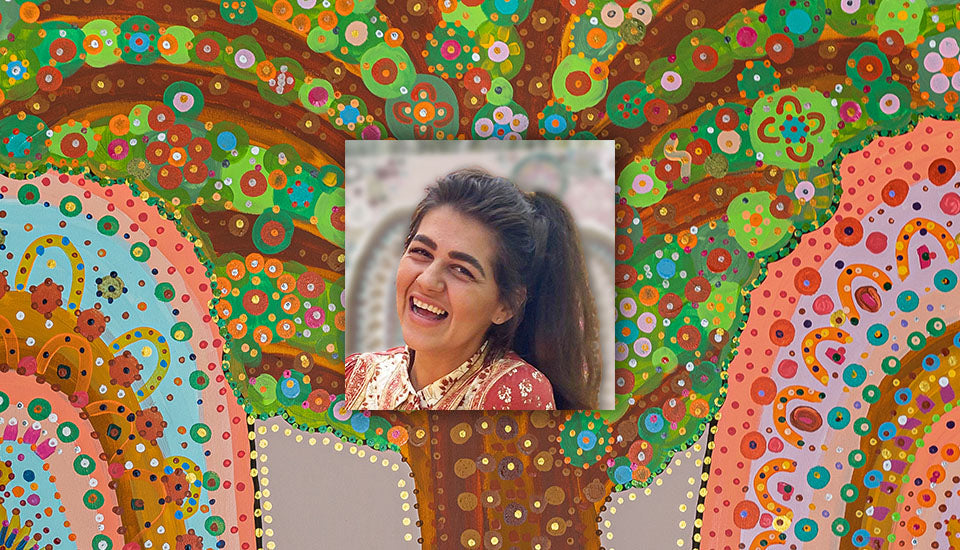 About Jacinta-rai Ridgeway
Jacinta-Rai Ridgeway-Maahs is a proud Worimi woman, telling stories through art, just as her ancestors did. Jacinta-Rai, whilst always being surrounded by her family's art, didn't start painting herself until she was twenty-eight. Now, this emerging indigenous artist is unstoppable, and her style is Aboriginal contemporary. Inspired by trees, waterways, rainbows, ocean, sun, wildlife, her children and ancestors, every piece of her art tells a story.
Created in Butchulla country, Jacinta-Rai embraces the earthy tones, peachy pinks, pastels, and bold colours of South East Queensland to create vivid depictions of country, community, culture and family. Her art is uniquely Indigenous and, at the same time, universal to the human experience. Jacinta-Rai's art is a visual meditation - there is a quiet relaxation that comes with every symbol, dash and dot.
Artwork & Story

Each of Jacinta-Rai's designs tells a story.

Together Again
'Together Again' tells the story of two people who are briefly separated; one passes away, but they are reunited once more in the Dreaming. Together, they reflect on the beautiful life they shared as they watch over their loved ones. Two rainbows symbolise how every experience strengthens their relationship. The colourful surroundings represent the legacy and memories shared with family as they grew and walked together through the Country.

Home
'Home' represents the way we find our path and walk life's journey in the Country. As individuals, we each contribute to the rich tapestry of community – all different yet equally essential for a balanced environment. It shows that we can walk together in unity and harmony, we can truly make a difference for generations to come.

Journeys in the Sun
'Journeys in the Sun' tells of her Worimi people's experiences as they travelled across the Country. The circles represent various mobs, yarning with their young, teaching them how to survive using the sun, sky and sea. The tracks connect individual mobs and show how they come together in times of celebration or need.

Tree of Life
This design depicts the journey of life; all that we were, are, and will one day be. The past is inseparably tied to the Country. Our ancestors understood the need to know and love the land that gave them life, and this echoes through to the present. Today, we find solace in connecting to the Country, sharing knowledge and storytelling. The 'Tree of Life' design then turns to the future as we dream of the endless possibilities that life affords to each of us.
Meet Jacinta-rai Ridgeway
Shop Collection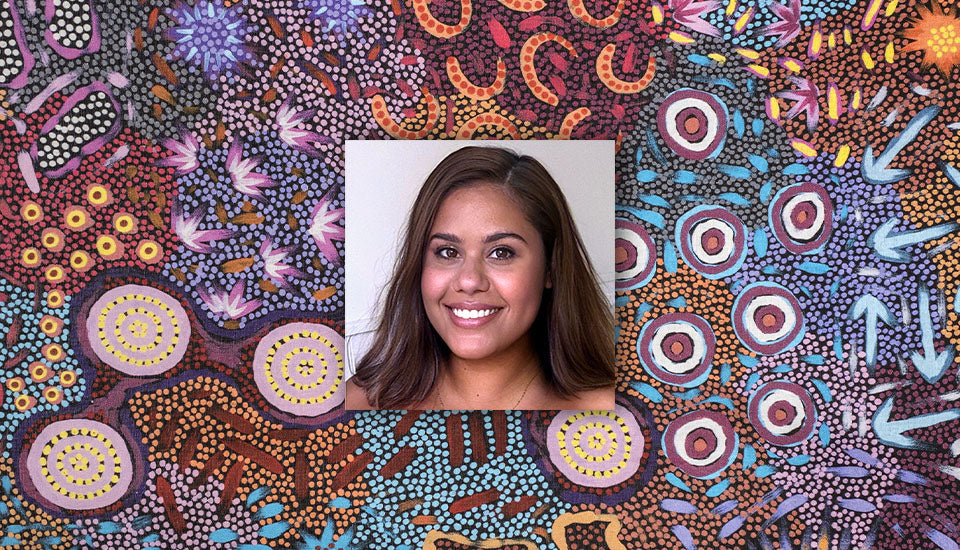 Khatija Possum, the granddaughter of renowned Australian indigenous artist Clifford Possum Tjapaltjarri, continues the artistic legacy of her family as a third-generation indigenous art painter. Her father, Heath Ramzan and especially her mother, Michelle Possum Nungurrayi, have played pivotal roles in shaping her artistic journey. 
Khatija acquired her painting skills through direct observation and hands-on experience under her mother's guidance. Her mother's art is dedicated to preserving traditional stories and styles, and this can also be seen in Khatija's work. 
This process emphasises the integral role of art in the intergenerational transmission of Aboriginal culture and stories. Currently residing in Warragul, Victoria, Khatija lives with her partner John and their children.
Artwork & Story

Each of Khatija's designs tells a story.


Seven Sisters
In the Dreamtime, a group of seven Napaltjarri women were being pursued by a Jakamarra man called Jilbi. He had been sitting in a cave at Irlkirdi practising love magic by cutting off his long hair and weaving it by hand onto a wooden spindle, then performing songs and dances that people from far off could hear. Often, he would entice young women to come to his cave and live with him. Jakamarra men were very proud of their successes when they practised this magic and spent much time boasting about their prowess. The seven women had no intention of sleeping with the Jakamarra man and ran away from him, journeying a long way across the desert until they were too tired and hungry to go any further. They sat down at Uluru to search for honey ants, then when they saw Jilbi approaching. They went to a place called Kurlunyalimpa and changed themselves into seven fires.

With the help of spirits at Uluru, they went up into the sky to become stars. Ever since then, they can be seen as a cluster of seven stars in the constellation Taurus, known as the Pleiades. Jilbi transformed himself into the Morning Star in Orion's belt and continues to chase the Pleiades across the sky. 

Women's Dreaming
The Women's Dreaming paintings by Khatija depict Women's ceremonial sites surrounding Tjukurla in the western desert of Central Australia – traditional homelands to the artist's great-grandmother. Ceremonial sites carry a deep spiritual meaning, as it is here that the women narrate their sacred Aboriginal Dreamtime stories through song, dance cycles and body paint. This painting has many secret and sacred landmarks and iconography but also includes the important fire, bush tucker and water holes that are imperative to the women, as the ceremonies can last for over a week. Though primarily a landscape painting, Khatija has surpassed the basic stories and landmarks and has expanded this art of body painting and ceremonial themes into a classic contemporary composition using modern acrylic paints.
Meet Khatija Possum
Shop Collection
our affiliations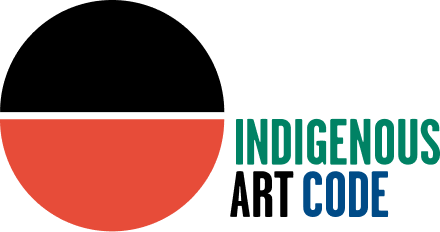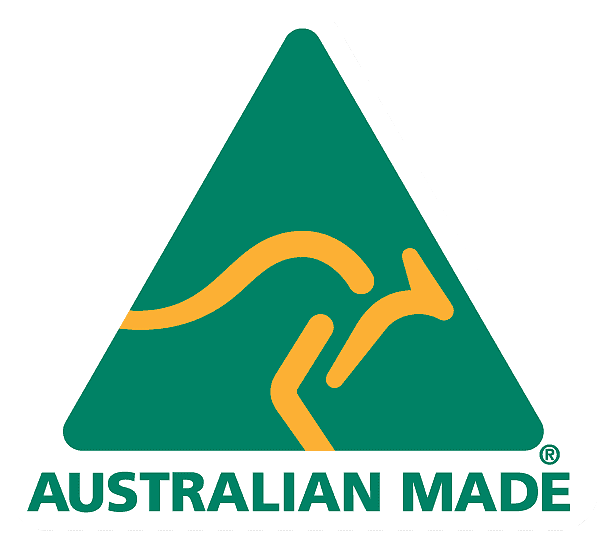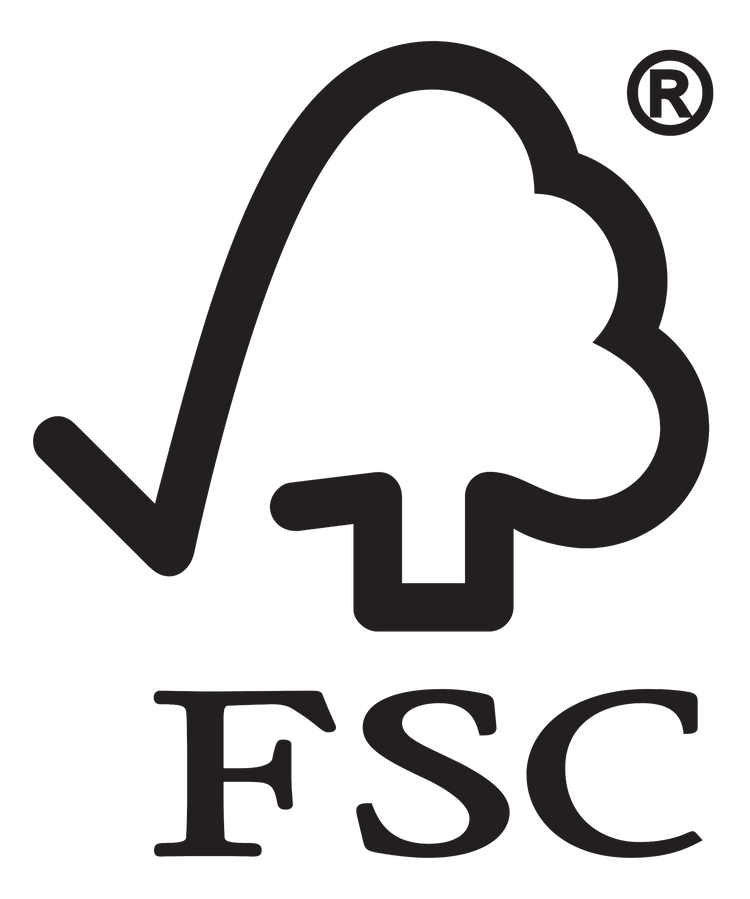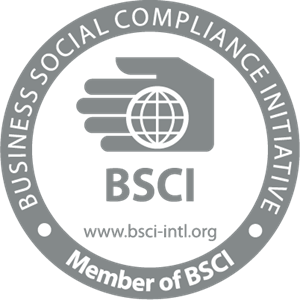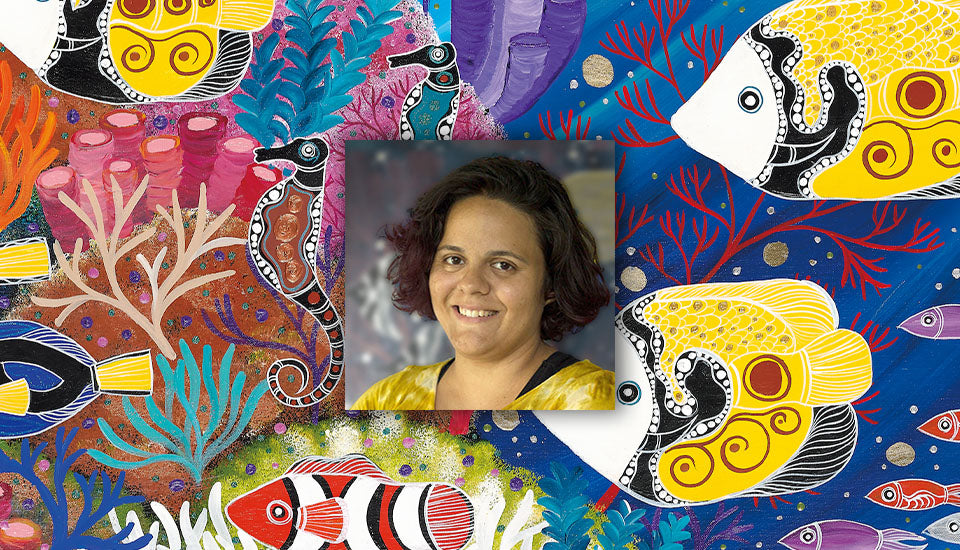 Hailing from the Wet Tropics of Far-North Queensland and identifying as a Mamu Aboriginal woman, Melanie Hava draws continuous inspiration from the reef and rainforest for her artistic creations. Since her early years, Melanie possessed a firm certainty about her destined path as an artist, with art providing her a secure haven.

Raised in the embrace of diverse backgrounds, Melanie's lineage is a fusion of her Aboriginal mother and Austrian father. Consequently, her artworks seamlessly interweave not only the distinct hues of Australia's red soils but also subtle European influences, represented by delicate gold leaf embellishments and intricate crystal patterns. In essence, her art harmoniously merges these two cultural threads.

Melanie currently resides in Cairns, close to her mother's Country, where she feels close to the spirit of rainforest and reef. Her life evolves around her three children, gallery, and commissioned artworks.
Artwork & Story

Artwork & Story

My people are the Mamu. Our traditional lands - now internationally recognised as the Wet Tropics of Queensland and the Great Barrier Reef - are both World Heritage Areas. These places and their stories are irreplaceable and priceless to our people, Australia and the world. Sharing and caring about our World Heritage Areas is so important and it is my passion to share these stories through my paintings.

"These paintings are influenced by the landscape of my home, the traditional land of the Rainforest Aboriginal people, right next to the Great Barrier Reef". - Melanie Hava

Utopia Great Barrier Reef 
Ever since I read a book about the little mermaid when I was in Primary school, I have loved the mysteries of the ocean's floor. As I grew older and learnt that The Great Barrier Reef was one of our people's traditional lands, I was thrilled with the connection. I love to indulge my imagination with scenes of the Great Barrier Reef, a true underwater utopia full of beautiful creatures and fish.

Kinship
This artwork is inspired by the spirit of kinship. Melanie Hava was raised in the outback, where she would often see emus travelling through the long grasses. Occasionally, she would observe two males joining forces to protect their chicks. This banding together in kinship to feed and protect their mob echoes how Aboriginals once lived.
Shop Collection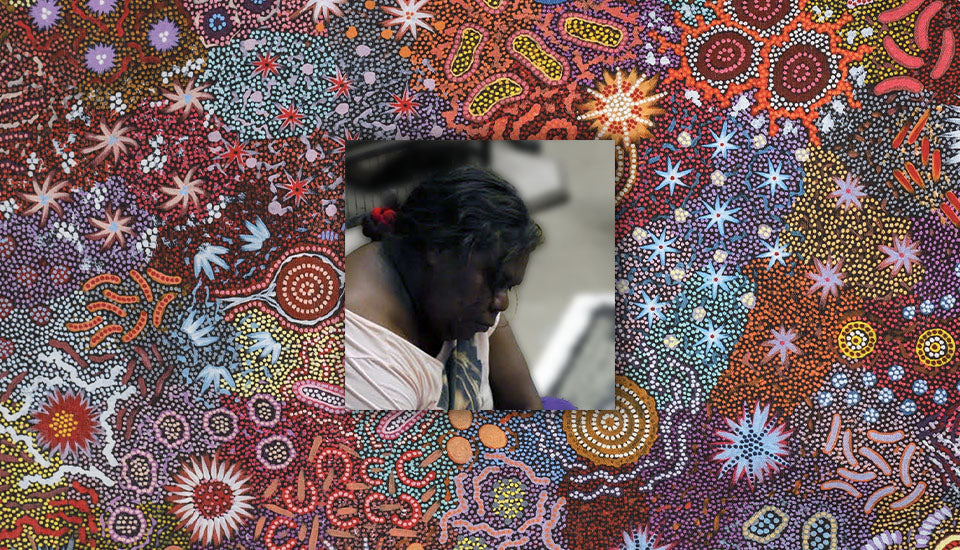 Michelle Possum was born at Napperby Station, Northwest of Alice Springs in the Northern Territory. She was taught to paint by her father Clifford Possum Tjapaltjarri. Clifford is the most renowned painter of the founding group of Papunya artists.

Michelle's work has a strong connection to her father, family and land. Her paintings can incorporate strong figurative elements as well as important topography relating to her family's country, such as the abundance of food and water.

Artwork & Story

'The Dreamings' that Michelle Possum paints come from Yuelamu in her home country at Mt Allan. These include the stories of Seven Sisters Dreaming, Bush Tucker stories including Seed Dreaming, Bush Coconut, Fire Dreaming, Goanna Dreaming, and Grandmother's Country, many of which she combines together in complex interwoven designs. 

Mainly depicting the overview of maps of traditional Country from her family lands, Michelle describes the many important cultural sites she knows well. Her paintings have gained wide popularity partly due to the fact that as we come to understand the iconography, the paintings make fascinating narratives for a Western audience. They are populated not only with plants and food resources and waterholes, but also with people sitting in the landscape – men with hunting implements and women with digging sticks and coolamons.

In addition to sacred landmarks and iconography, Michelle's artwork includes important bush tucker and waterholes, making a meaningful connection to modern kitchens, the source of such provisions.
Meet Michelle Possum
Shop Collection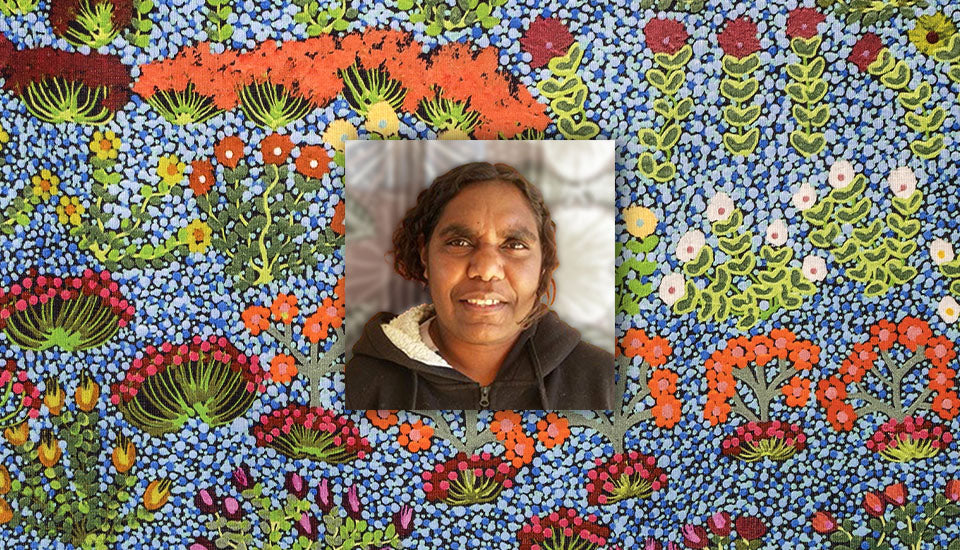 In Pammy's own words: "I like to learn more about my country, my grandmother's country. Painting is the way of learning."
Pammy Foster is an Indigenous artist who paints with the Epenarra Artists Collective. She is a Waramungu and Alyawarr woman born in Tennant Creek and raised between Ampilatwatja and Wutunugurra (Epenarra). She began painting from an early age, learning from her aunt Susie Peterson and her grandmother Jessie Peterson, both well-known artists from Wutunugurra. Pammy paints intricate pieces depicting the bush plants and landscapes of the Wutunugurra region. She is a devoted aboriginal artist who will finesse a canvas until she is completely satisfied with her work, resulting in highly detailed and layered pieces.
Artwork & Story

Epenarra (Blue) & Bush Flowers Blooming (Orange).

"When you go out (into the) bush, you see all different flowers. You can pick them and smell them - some of them smell very nice."

Epenarra design uses bright colours to capture the landscape of the Davenport Ranges. Pammy builds textures with layers of paint, alluding to the rocky nature of the landscape. Densely grouped green trees and flowering bushes cover the canvas, suggesting the work shows the land in the rainy season. Pammy takes an abstract approach to the depiction of Country, and her work captures the rhythm of the landscape with repeated motifs. Wutunugurra (Epenarra) is described by the Indigenous people as Hill Country. It is nestled at the foot of Iytwelepenty (the Davenport Ranges National Park). The area is home to the popular camping sites of Whistleduck Creek and Policeman Waterhole and a unique variety of birds, insects and bush medicine. It is this landscape and environment that Pammy takes her inspiration from.
Shop Collection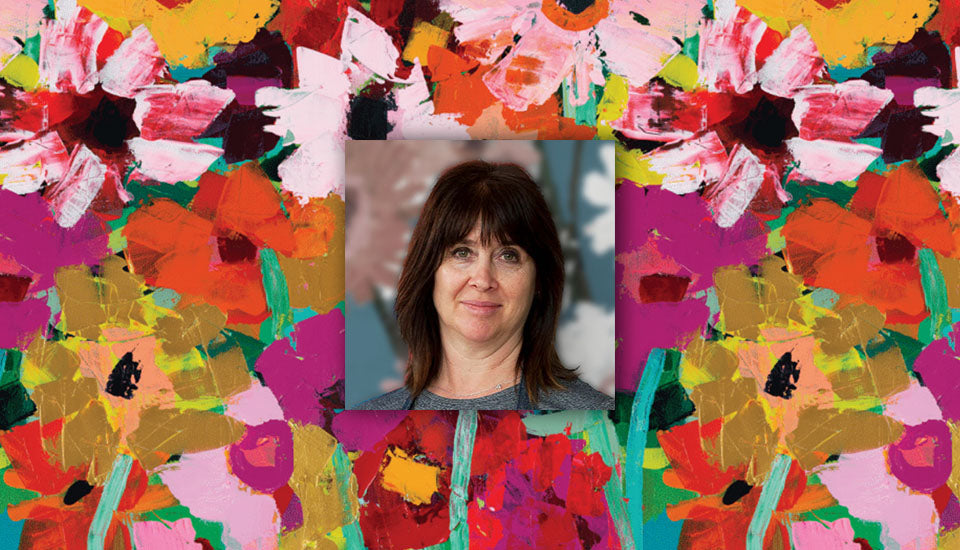 Long-standing Koh Living resident Artist Anna Blatman is well-established in spreading joy through her colourful artwork. Anna has been a professional Australian artist since 1993. Passionate about colour, she creates harmonious paintings that have the power to bring happiness to any home.

Anna celebrates Australian flowers, animals and landscapes through vivid colour and bold brush strokes. Her unique and recognisable style has won her many fans including being recognised as Top 5 artists on 'The Block' in 2022.
Artwork & Story

In Anna's words..

My mother was the link to my career as a painter. Unlike myself, she painted in a very traditional style. But I love impressionism and vintage colours. I would describe my art as an impression of how I see the world. It is not abstract and it's definitely not realism, perhaps it is just "Annaism!"

I love people to look at my work and be connected to the colour or the form or both. I love nature and every perfect flower, field, bird, and pond in it. I keep painting these subjects to make me feel like I'm there. When I start a painting, I may do an outline of a pot for example, or loose flower shapes to build the balance of how flowers fall in a vase. I start on a black background and then go from darks to lights, building the layers until I'm happy.
Meet Anna Blatman
SHOP COLLECTION