"Our spirituality is oneness and an interconnectedness with all that lives and breathes." – Mudrooroo
At Koh Living our commitment is straightforward: to celebrate and preserve Indigenous cultures by means of exquisite art-infused products. Our Australian designed products encompass captivating and unique items, including gifts, homeware goods, and lifestyle necessities. These not only bring joy, but they also give back to the artists we collaborate with. We assure you that when you present a Koh Living gift, you're genuinely offering a gift infused with profound significance!

Discover how much love we put into our process
and what makes us so delightfully different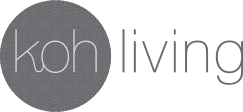 Beautifully unique gifts with meaning. Created with love.
Koh Living are proud members of